Another Halloween related post! This time I want to share with you my favorite paranormal romance series for adults.
In my opinion, Halloween is the best month to read paranormal romance books.
Anything related to vampires, werewolves, aliens, and other magical creatures is a great option during this season.
During all these years I have read great books on this genre. I didn't add them all, but you can definitely find more options on my Goodreads.
*SOME OF THE LINKS IN THIS POST CONTAINS AFFILIATE LINKS AND I WILL RECEIVE A SMALL COMMISSION IF YOU MAKE A PURCHASE AFTER CLICKING ON MY LINK*
This series have a total of 8 books, and each book is about a different couple.
You can read each of these books as a standalone. Even though it's always better to read them in order to get a better understanding of the story and characters because they interact with each other a lot.
Suzanne Wright is the queen of paranormal romance books. She created an amazing story in the shape-shifter world, and has two other spin-offs series that I also recommend.
This series is completed, so you don't have to worry about waiting for the next book.
If your inner wolf and your body react rather enthusiastically to a psychotic Alpha male who's own wolf has a tendency to turn feral, it can't be a good thing, can it?
Entering into a bargain with him wouldn't be good either. Unfortunately, Taryn Warner, a latent wolf shifter, doesn't have many options open to her right now. Okay, she has no options.
Basically it comes down to whether she'll do what it takes to escape the arranged mating with the sick SOB that her father set up.
As the answer in this case is yes, it looks as though she'll have to agree to Trey Coleman's deal… she'll have to mate with him instead.
Having always disliked shifter politics, Trey Coleman hadn't bothered trying to form alliances with other packs.
Now that his uncle – a wolf with many alliances – means to take Trey's territory and his pack, he has no option but to form some alliances of his own very quickly or he'll be easily outnumbered in the upcoming battle.
He figures that the easiest way to do that would be to mate with a female whose Alpha is powerful and influential.
There's only one problem with that – he would then be stuck with her, and the last thing Trey wants is a mate.
When he hears of Taryn's situation, he offers her a deal – if she falsely claims he's her true mate and allows him to claim her, he'll save her from her arranged mating and then let her leave after the battle with his uncle is over.
Sounds like a pretty straightforward deal… but soon Taryn and Trey realize they got more than they bargained for. Their mating instincts to protect and possess are weighing on them, they crave each other's touch and company, and their inner wolves don't like it whenever they're apart.
Add in that they'll have to deal with this for an entire three months until the day of the battle finally arrives, and they've got themselves a recipe for disaster – or maybe for something quite the opposite.
So if you are into werewolves, you are going to love these books and the other spin-offs.
It's also available on Kindle Unlimited and Audiobook!
If you love vampire books, then this is classic you are going to enjoy. J.R. Ward books are very intense (in all areas).
This series have a total of 19 books! And if you fall in love with the Black Dagger Brotherhood world, you can also can continue reading about it in the two other spin-offs (Black Dagger Legacy and Black Dagger Prison Camp).
Even though most of the books in the series are about different couples, I do recommend reading them in order. It's important for the story-line and you won't get confused.
In the shadows of the night in Caldwell, New York, there's a deadly turf war going on between vampires and their slayers.
There exists a secret band of brothers like no other-six vampire warriors, defenders of their race. Yet none of them relishes killing more than Wrath, the leader of The Black Dagger Brotherhood.

The only purebred vampire left on earth, Wrath has a score to settle with the slayers who murdered his parents centuries ago.
But, when one of his most trusted fighters is killed-leaving his half-breed daughter unaware of his existence or her fate-Wrath must usher her into the world of the undead-a world of sensuality beyond her wildest dreams.
So if you love reading about vampires (and not like Twilight), you are going to enjoy this book.
This book is available on Kindle Unlimited and Audiobook.
I can't really define what kind of "creatures" are in this series, but it's definitely refreshing since it's not about vampires or werewolves.
This series have a total of 12 books and it's important to read in order. I didn't when I started the series with book #7, so I was lost and confused when they were mentioning things that I needed to know.
This series also have a spin-off (Realm Enforcers), if you want to check it out!
Now, let's talk about the first book in the series. While is not my favorite, it's obviously important for the story line. But they get better!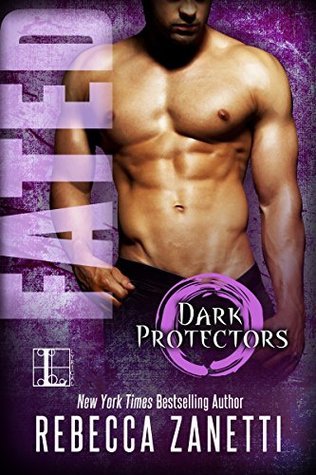 Cara Paulsen does not give up easily. A scientist and a single mother, she's used to fighting for what she wants, keeping a cool head, and doing whatever it takes to protect her daughter Janie.
But "whatever it takes" has never before included a shotgun wedding to a dangerous-looking stranger with an attitude problem.

Sure, the mysterious Talen says that he's there to protect Cara and Janie. He also says that he's a three-hundred-year-old vampire.
Of course, the way he touches her, Cara might actually believe he's had that long to practice…
If you want to try something different on the paranormal romance genre, then you are going to enjoy this series!
This book is not available on Kindle Unlimited, but you can find it on Audiobooks.
Another series by Suzanne Wright, but this time is has nothing to do with werewolves.
So if the underworlds is something you enjoy, and you like the stories about demons. You are going to love 'The Dark in You' books!
This series have a total of 6 books; and until book #4, the series revolve around Knox and Harper.
Part of a small demon lair in North Las Vegas, tattooist Harper Wallis lives a pretty simple life.
That changes overnight when she discovers that her psychic mate, or 'anchor', is a guy who's rumored to be the most powerful demon in existence.
Compelling, full of secrets and armed with raw sexuality, Knox Thorne is determined to claim her as his anchor, creating a psychic bond that will prevent their inner demons from ever turning rogue. The billionaire also wants Harper in his bed.
She's not so sure she wants either of those things. No one seems to know what breed of demon Knox is, only that he's more dangerous than anything she's ever before encountered.
But he refuses to walk away. And when an unknown danger starts closing in on Harper, it seems that Knox is the only one who can keep her safe.
As Prime of his Las Vegas lair and a successful businessman, Knox Thorne is used to being in control.
He's also used to people fearing and obeying him. Harper does neither, which unexpectedly amuses him.
Unpredictable, elusive, and complex, she draws Knox and his inner demon like nothing ever has. Knox is used to getting what he wants, and he wants Harper.
He'll have her, and he'll keep her safe from the threat that looms over her. Because Knox protects what's his.
He won't allow anyone to take her from him. Even if it will mean letting the demon inside him rise and wreak the havoc it was created to make.
This book is not available on Kindle Unlimited but you can find it on Audiobooks!
This is one of my all-time favorite series in the paranormal romance genre. Lora Leigh is an amazing writer!
This series has a total of 23 books (I know a lot!), and each books is about a different couple.
In my opinion, it can be read as a stand alone. You can easily understand the story without having to read all the books in order. The are recurrent characters in the books, and because of that you might prefer to read the series in order.
Although I do recommend reading the first book (Tempting The Beast), so you can understand the story behind.
My favorite book in this series is Coyote's Mate I recommend it so much! It made cry too. That's when you know the book is good haha.
He's a genetic experiment. The merging of human and lion DNA his creators call a Breed. And they have no idea just what kind of the creature they brought into being.

Callan Lyons wanted only to be left in peace to protect the small group of Breeds he rescued from a New Mexico lab, but those that created them refuse to stop their continued attempts to re-capture them.
And the owner of a small, reputable paper, once a friend of his birth mother's, now has proof of his existence.
Proof that has caught his daughter, Merinus Tyler's's fascination and ensured her determination to find him. But once they touch, they'll become far more than either ever imagined possible.

Man created them, but nature has made them her own. Beginning with Callan, she'll show the world the folly of playing with the very building blocks of all she protects. And Merinus will learn the folly of tempting the beast…
This was the first paranormal romance series for adults that I read. At the time, I was super obsessed with vampires so I really enjoyed all the books in this series.
Jeaniene Frost created a super fun world with vampires (and other paranormal creatures) that has a lot of action and romance.
This series has 7 books and 4 spin-offs. So if you love the characters, you will have a ton of books to read. It's also complete, so you don't have to wait for a new book.
These series revolve around Cat and Bones (all the 7 books), and you have to read them in order to see how the couple develops their relationship.
Half-vampire Catherine Crawfield is going after the undead with a vengeance, hoping that one of these deadbeats is her father – the one responsible for ruining her mother's life.
Then she's captured by Bones, a vampire bounty hunter, and is forced into an unlikely partnership.

In exchange for help finding her father, Cat agrees to train with the sexy night stalker until her battle reflexes are as sharp as his fangs.
She's amazed she doesn't end up as his dinner – are there actually good vampires? Pretty soon Bones will have her convinced that being half-dead doesn't have to be all bad.
But before she can enjoy her status as kick-ass demon hunter, Cat and Bones are pursued by a group of killers.
Now Cat will have to choose a side… and Bones is turning out to be as tempting as any man with a heartbeat.
The kindle is only $3 and it's also available on Audiobook!
This has a "similar" story line to 'Breeds' by Lora Leigh. It's about humans that have animal DNA.
You are definitely going to enjoy this series if you are into alpha males. The books are also funny because even though they are part human, they spent most of their lives locked in a lab so they don't know how to act like humans.
This series has a total of 15 books and the author is still writing them. They can be read as a stand alone so you don't have to start with the first book.
I really love all the books in this series!
Ellie is horrified to discover the pharmaceutical company she works for is doing illegal experiments.
Company scientists have spliced human and animal DNA, creating exotic new species.
One such "experiment" captures her heart and she'll do anything to save him—even if he hates her for it.
Fury has never known compassion or love. He's spent his life in a cell, chained and abused by humans.
The one woman he allowed himself to trust betrayed him. Now he's free and set on vengeance.
He vows to end her life but when she's finally in his grasp, harming her is the last thing he wants to do to the sexy little human.
Fury can't resist Ellie—the touch of her hands, her mouth on his skin, her body wrapped around his.
He's obsessed with the scent of his woman. And Ellie wants Fury—always has. She craves his big, powerful body and wants to heal his desolate heart.
But loving Fury is one thing… taming him is another.
If vampires or shape shifters aren't your thing or you are just tired of the same paranormal creatures, then I recommend reading this series.
The world that Shannon K. Butcher created is super interesting!
The series so far has 11 books, and each book is about a different couple. In my opinion, you can read them as a stand alone.
You might get confused a little with some terms used in the books, but I also don't think you might lose some vital information if you don't read them in order.
For some reason I forgot about this series. The last 'Sentinel Wars' book I read was on 2013! So I need some catchup to do.
They are the Sentinels…
Three races descended from ancient guardians of mankind, each possessing unique abilities in their battle to protect humanity against their eternal foes-the Synestryn.
Now, one warrior must fight his own desire if he is to discover the power that lies within his one true love…
Helen Day is haunted by visions of herself surrounded by flames, as a dark-haired man watches her burn.
So when she sees the man of her nightmares staring at her from across a diner, she attempts to flee-but instead ends up in the man's arms.
There, she awakens a force more powerful and enticing than she could ever imagine.
For the man is actually Theronai warrior Drake, whose own pain is driven away by Helen's presence.
Together, they may become more than lovers-they may become a weapon of light that could tip the balance of the war and save Drake's people…
Nalini Singh is an amazing writer, all the books I have read from her leave me wanting more! Especially those in the paranormal romance genre.
The Psy-Changeling series has a total of 19 books and one spin-off that's actually "season one".
The story is so interesting and futuristic!
The series are about two races: the Changeling and the Psy. Two of the strongest Changeling packs in North America are controlling the San Francisco area.
The icy and emotionless Psy are under the control of a powerful council of seven beings with very different goals. And some of the humans, often thought to be the weakest of the three races, have decided to level the playing field.
Dive into a world torn apart by a powerful race with phenomenal powers of the mind— and none of the heart…
In a world that denies emotions, where the ruling Psy punish any sign of desire, Sascha Duncan must conceal the feelings that brand her as flawed.
To reveal them would be to sentence herself to the horror of "rehabilitation"— the complete psychic erasure of everything she ever was….
Both human and animal, Lucas Hunter is a Changeling hungry for the very sensations the Psy disdain.
After centuries of uneasy co-existence, these two races are now on the verge of war over the brutal murders of several Changeling women.
Lucas is determined to find the Psy killer who butchered his packmate, and Sascha is his ticket into their closely guarded society. But he soon discovers that this ice-cold Psy is very capable of passion—and that the animal in him is fascinated by her.
Caught between their conflicting worlds, Lucas and Sascha must remain bound to their identities—or sacrifice everything for a taste of darkest temptation…
Also, the Kindle version is currently $2.73! Super cheap if you like reading on your phone, iPad, or Kindle.
Lastly, we have a different kind of paranormal romance series for adults. You might nor consider SciFi Romance as Paranormal, but I thought this series should be in this list.
If you like books where humans and aliens interact, then you are going to love the 'Horde Kings' books.
This is not your typical SciFi romance series. Normally in this sub genre, alien abducts human from Earth; but in this world, they were already interacting on a different planet.
This is not a long series, and just have two books so far, but the writer will keep coming up with more books.
Also, each book revolves a different couple and can be read a standalone. You won't loose any information if you don't read them in order.
She made a deal with the Dakkari devil!
Now, he owns her!
On the unforgiving planet of Dakkar, I did what all the humans in our village did: kept my head down, worked to provide for my family, and I certainly didn't break any Dakkari laws to risk inciting the alien race's merciless wrath!
Unfortunately, the same couldn't be said for my brother and one careless mistake brings a horde of the nomadic, barbarian Dakkari straight to our doorstep, led by their powerful horde king – a cold, ruthless, battle-scarred warrior demanding retribution!
In order to save my brother's life, I do the unthinkable…
I sell myself to the horde king as his war prize. I agree to warm his furs, to travel with his horde across the wild lands of Dakkar, and to never see my family again!
But, as I struggle with my new reality, I discover that the surly, mysterious, dominant horde king never intended for me to be his concubine…
He wants me as his queen!
So far I have re-read this book two times already. The story always captivates me!
Same with the second book, which I think is so much better. But honestly, none of them disappoint.
This book is available on Kindle Unlimited and Audiobook as well.
If you want more romance book recommendations, click here. And if you want more Halloween related content, click here.
So tell me, have you read any of these paranormal romance series for adults? Let me know in the comments!
Sincerely,