There's so much information out there about skincare routines that it can be quite overwhelming when you are just starting out.
That's why I wanted to create a guide on how to build a skincare routine when you don't know where to start.
Even though I'm not a skincare expert. I was in this same position a few months ago.
There were so many articles explaining all the products that I should add to skincare routine (for morning and night), but none of the told me the basics.
So I want to make it easy for you!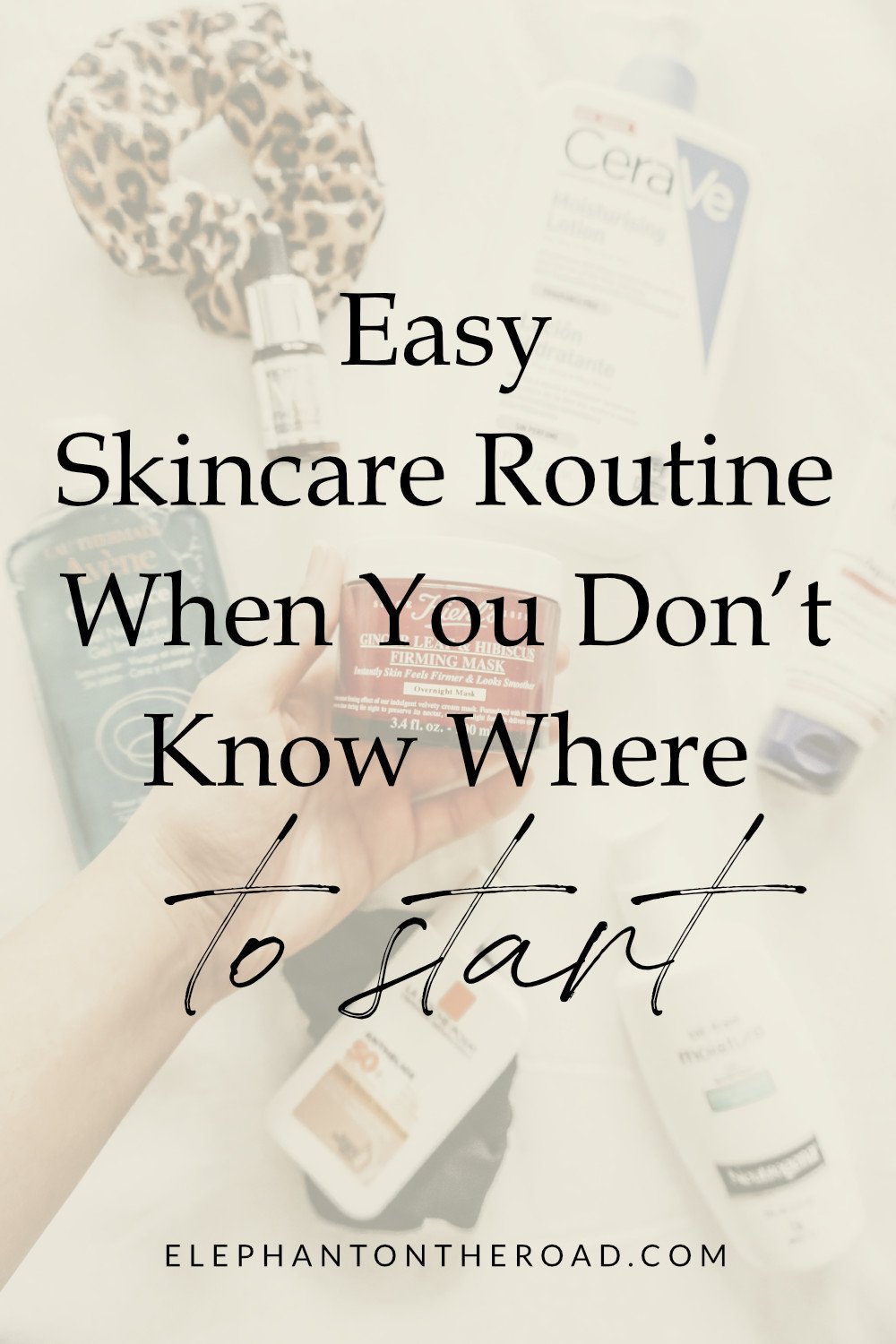 *SOME OF THE LINKS IN THIS POST CONTAINS AFFILIATE LINKS AND I WILL RECEIVE A SMALL COMMISSION IF YOU MAKE A PURCHASE AFTER CLICKING ON MY LINK*
Since I couldn't find a simple skincare routine guide online, I took the time to investigate. I watched tons of Youtube videos and read some more articles.
This post is going to explain the steps you need in your skincare routine to start out and what products you can use (and the ones I'm using as well).
First of all, if you have big concerns about something in particular like eczema or acne, you definitely need to go to a dermatologist. Just don't go there and try different products because you might end up doing more damage to your skin.
Another thing I want you to know before starting this post, is my skin type.
I have combination oily skin, which means that I have oily and dry areas on my face (talk about complicated right?). The most oily area on my face is my forehead, while my cheeks need a little more hydration.
If you want to know your skin type, I recommend watching this Youtube video. It can be very helpful!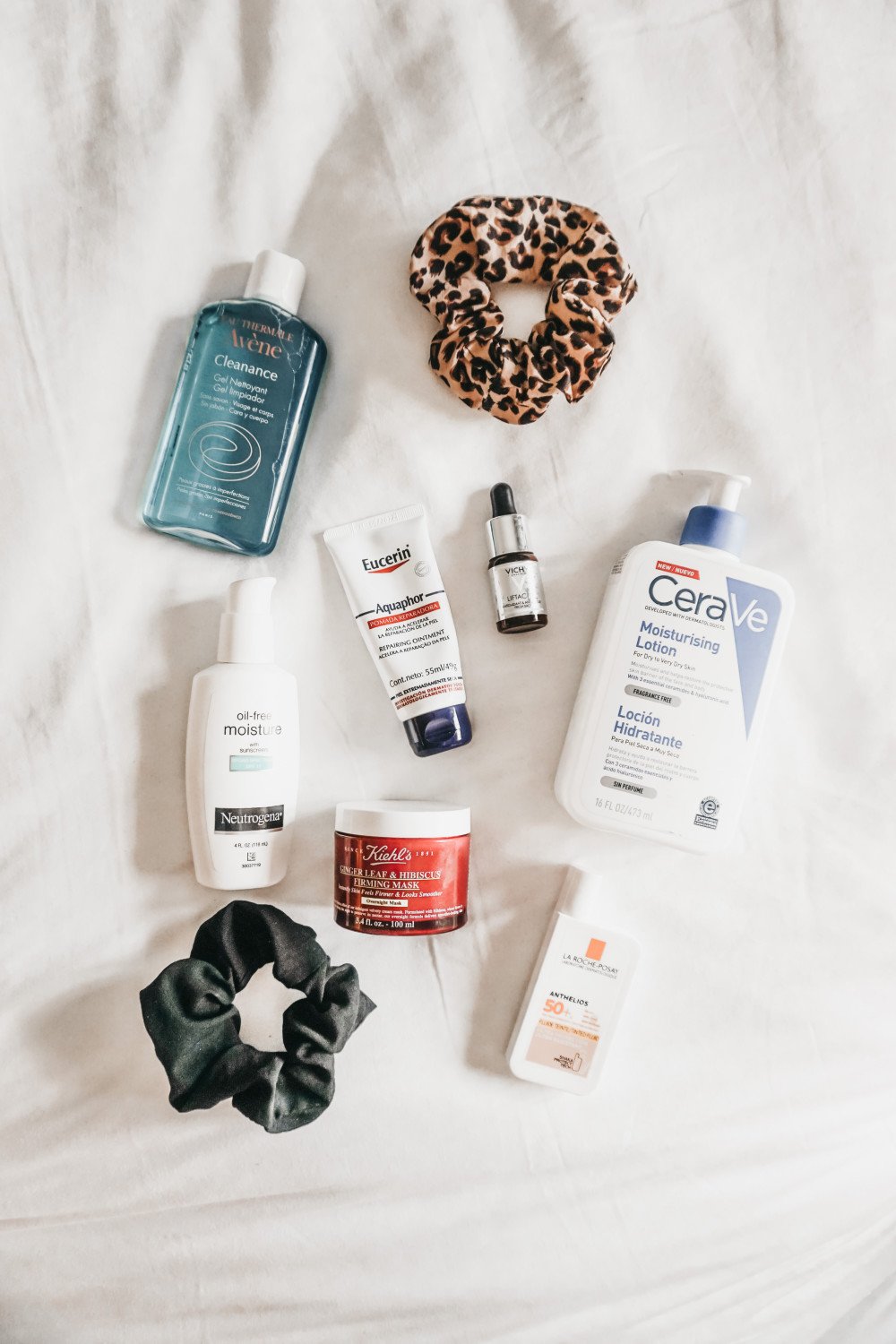 Before starting my skincare routine a few months ago, my skin was breaking out a lot and it was super oily. Also, I wasn't doing anything in particular.
Moisturizer and cleaning my skin once a day, and that was all (sometimes I would moisturize because my skin felt so oily!).
After a week of doing my new skincare routine, I saw a HUGE difference on my skin.
It made me realize that my skin was simply dehydrated and the breakouts and the extreme production of oil was my skin trying to tell me that I need it to hydrate it more.
Morning Skincare Routine
Let's start with how to create a morning skincare routine.
This one should be super simple, you don't need tons of skincare products to make you skin happy and healthy.
In general, you just need three products: cleanser, moisturizer, and sunscreen.
Those are the basics and you definitely need them on your skin.
Now, you can definitely add some serums depending on what you think your skin is missing.
For example, I'm currently using Vitamin C. Which helps to to even out skin tone and diminish the appearance of fine lines and wrinkles. It's also great for brightening your skin. Overall, a great serum to start out.
This is what I do every morning:
Step 1: Water-Based Cleanser
The first thing you will need in the morning is to wash your skin with a water-based cleanser.
To apply, simply damp you face with water, then put some of the cleanser on your fingertips and create foam. Lightly, rub your fingers on your skin for around 30 to 45 seconds. Rinse warm to cold water.
Lastly, press a clean washcloth onto your skin to dry. Do not rub! Also, you don't want to completely dry your face. Serums and moisturizer work better on damp skin.
I'm currently using the Avene Cleanance Cleansing Gel Soap; which I like, but I definitely like more the Drunk Elephant Beste™ No. 9 Jelly Cleanser.
Another great option is the Cetaphil Gentle Skin Cleanser. Way cheaper and a good one as well. My mom uses this one and I definitely want to try it next.
If you have the money to splurge in something more expensive, then I have heard good things about the Youth To The People Superfood Antioxidant Cleanser. I definitely want to try it, but I'm waiting for the mini size to be available again.
Step 2: Serum
Like I said, serum are awesome for when you want to add something to your skin that is missing.
A good serum to add to your morning skincare routine, is one with Vitamin C.
You can also add a Hyaluronic Acid serum (like this one), or an Antioxidant serum (like this one). Each of them will boost your skin in different ways, and it will depend on your preferences.
To apply your serum, make sure you do it on damp skin, that way your skin will absorb the product more.
So make sure to not dry completely your face after the cleanser.
Also, each serum will have their own instruction, so make sure to read them before applying.
I'm currently using Vichy LiftActiv Vitamin C Serum, I haven't tried others so I can compare.
This one comes in a smaller bottle than some others, but since you use only between 5-6 drops, you have product for around two months. I got mine on September and the bottle it's almost empty.
The next Vitamin C I will get will be from La Roche Posey. I have heard so many good things from it! It's a little more pricey but apparently it's worth it.




Step 3: Moisturizer
Like with every step, it's important you use the right product for your skin type. So before buying anything, read some reviews about the product and see if they are going to work on your skin.
If you don't know if a product would work on you, buy the travel size if possible.
We all know that CeraVe products have been very popular on social media, so I got myself the moisturizer thinking that would work on my combination oily skin. But guess what… it didn't work on me!
I started to break out like crazy, and that was not normal on me.
So while it works on many people, I didn't have the best experience with it. It worked good on my sister, so it's still a great product to try.
Worst case scenario (and what I ended up doing), is using the CeraVe Daily Moisturizing Lotion for my body instead.
Remember that before applying moisturizer you need to damp your skin, that way the product will absorb better.
For that; you can use tap water, a hydrating toner, or a Thermal Spring Water (like this one from La Roche Posey).
It doesn't have to fancy! In general, toners aren't necessary, but if you like it you can definitely add them to your skincare routine.
If you decide to use tap water (or filtered water), you can get an empty spray bottle. That way it's easier to apply on you skin (and less messier!).
Also, don't forget to moisturize your neck and pat your skin with your hands to absorb better the ingredients. Have in mind that you don't need more than a pea-size of product, especially if you tend to have oily skin.
I'm currently using this Neutrogena Oil-Free Moisture Broad Spectrum SPF 15. I like it so far, but I'll probably be switching after I finish the bottle.
I have been using the Oil-Free line for years and my skin is happy with it. I just want to try something different.
I have also tried the Drunk Elephant Protini™ Polypeptide Moisturizer. If you ever want to try it, I definitely recommend the mini size. That's why I did and my skin was so happy this the formula!
I'm also adding an option from Paula's Choice. Sounds like a great products for those with oily skin and I definitely want to try it soon.




Step 4: Sunscreen
Now, it can definitely be tricky to find a good sunscreen that doesn't leave a white cast on your skin.
But sunscreen is THE product you can't forget to apply on your morning routine.
The serum, oils, toners, etc you apply won't matter if you don't apply sunscreen.
The amount of damage that the sun creates on your skin is big.
So if you are in your 20s and you wan't to avoid early wrinkles. Makes sure to add sunscreen to your daily skincare routine. Even if you don't do your complete routine, don't leave your house without some sunscreen.
And yes, you also have to apply sunscreen if you are staying indoors. The sun can still make some damage if you are close to a window.
The recommended amount of sunscreen you should apply is about a full teaspoon; but you can always apply first a little, then do a second coat of sunscreen to make sure every inch is covered.
I'm currently using a SPF 50 sunscreen for babies from the brand Simond's. It's awesome because it doesn't leave a white cast. I tried to find a link to it, but it looks like you can only find it in my country (Chile).
I also have the La Roche-Posey Anthelios Tinted Sunscreen SPF 50. Especially when I wear makeup and I don't want to apply regular foundation.
You can also use moisturizer with SPF in them. Paula's Choice have many great ones with this benefits.
At the end of the day, it doesn't matter which sunscreen you apply on your skin as long as you are doing it. It's the most important step!




Night Skincare Routine
Again, a skincare routine doesn't have to be full of products and difficult; but since at night we usually have more time, you can definitely add more steps.
But in general, if you want something very short or if you don't have big skin concerns, you can simply use a double-cleansing face wash (to remove makeup) and moisturizer.
My night skincare routine is pretty simple, but I also add a few products (and steps) on some nights.
This is what I do every night:
STEP 1: Oil-based Cleanser
A oil-based cleansers is different than water-based cleanser. The first one will make sure to remove your makeup and the sunscreen that's on your skin.
Apply your oil-based cleanser on dry skin and gently massage your face (don't forget your neck!) for about 30 seconds to a minute. Rinse with warm water and leave skin damp for next step.
I'm currently using the THEN I MET YOU Living Cleansing Balm and I love it. It smells awesome as well!




STEP 2: WATER-BASED CLEANSER
The second step is about removing those other agents that the first cleanser didn't.
You can use the same water-based cleanser you used in the morning.
STEP 3: CHEMICAL EXFOLIATION
I know, it sounds kinda harsh. But you don't have to be scared about those acids (like AHAs and BHAs, which you can search online if you have questions!).
But in short words: AHAs are for brighten skin; and BHA are for acne, and clean pores.
Physical exfoliation, which is the removal of dead skin cells at the surface level, can be super damaging. So doing a chemical exfoliation, is the next step in your routine.
The difference between those two exfoliations is that the chemical exfoliation (that uses acids) exfoliates at a deeper level in the skin rather than getting rid of the already dead skin.
The benefits of this kind of exfoliations are awesome! You get a brighter and clearer skin, and it also slows the aging process.
You shouldn't use any acid more than three or four times a week. Also, if you are starting out, start by doing it just once a week.
You should always patch try every single new product you want to introduce to your easy skincare routine, but even more important with a product like this. That way you make sure it's the right product for you.
I'm currently using the Paula's Choice 2% BHA Liquid Exfoliant. It's a good product for those who are just starting out, because it's "softer" than others.
Another good option that is also affordable is The Ordinary Lactic Acid 10% + HA. Also good for those who are starting out, but a little "stronger".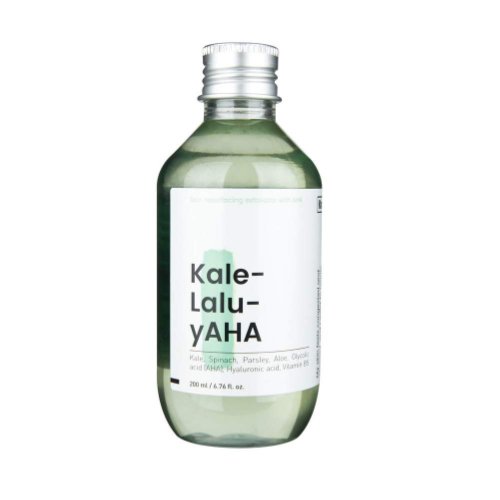 STEP 4: FACE MASK
In case you want to add a face mask (either sheets or other type), here's the moment to do it.
Just make sure to apply your face mask of choice after cleansing or exfoliating.
STEP 5: EYE CREAM
Now, there's a lot of controversy regarding to eye creams. Some people say that are not necessary because they are the same as normal moisturizers, and other's say they are a must.
After reading about it, I came to the conclusion that while they are not required. Some eye creams can treat things your night moisturizer don't do.
Also, since that area of your skin is delicate, the formula of eye creams are also a little different.
For example, if your night moisturizer doesn't have an anti-age component, your can get an eye cream that will help you to get a brighter look.
I was using the First Aid Beauty Eye Duty Niacinamide Brightening Eye Cream for a few months and I loved it. First Aid Beauty has awesome eye creams and I recommend them.
Here are other options:




STEP 6: SERUMS
If you have some extra skin concerns and you want to treat them, looking for a specialized serums can be a good options.
You can get a reparative serum, anti-aging serum, hyaluronic acid serum (to hydrate), glycolic acid serum (to even your skin tone), skin-soothing serum etc.
Also, remember that before applying any serum you must damp your skin first!
A good serum that you can try is the La Roche-Posay Effaclar Pore-Refining Serum if you want to tighten the look of enlarged pores. It helps your skin to look more smoother and radiant.
STEP 7: MOISTURIZER
After doing all those steps, a moisturizer is needed to keep your face hydrated during the night.
If you don't want to spend money on a night moisturizer, it's fine to use the same moisturizer that you use in the morning. As long as you are applying one it's OK. Even if you have oily skin!
I'm currently using the Kiehl's Ginger Leaf & Hibiscus Firming Mask. Even though this is an overnight mask and not night cream, you can replace it.
The instructions say you can apply it five times a week, and on the days you don't use it, you can go back to your regular night or morning moisturizer.




STEP 8: RETINOL
Lat step and only needed if you are seeing wrinkles.
Retinol is a component that smoothes your current fine lines and wrinkles and helps to prevent more wrinkles.
This is a product that you don't use every night. just one to three times a week. Also, don't use it the same day that you use a chemical exfoliant. That's too many stronger ingredients for one night.
I just started using the La Roche-Posay Pure Retinol Face Serum with Vitamin B3, and so far so good. No big changes yet.
If retinol is something you want to start using, here are more options:




Skincare Specialists You Can Follow For More Tips
There are many skincare experts on social media. I love following them not only for their tips, but because they also introduce me to new products to try.
These are people you can follow on Instagram, TikTok or Youtube:
1. Charlotte Palermino
2. Skincare by Hyram
3. Ben Neiley
4. Dr. Angelo Landriscina (DermAngelo)
5. Susan Yara (Mixed Makeup)
I know! What a long post, but I really wanted to include the most basic but important steps for your morning and night skincare routine.
It can be super overwhelming because there's so much information out there! So having an easy skincare routine is key. At least when you ate starting out.
Do you struggle to have a skincare routine? Let me know in the comments!
Sincerely,